Questions To Ask A Current Owner Before Buying A Home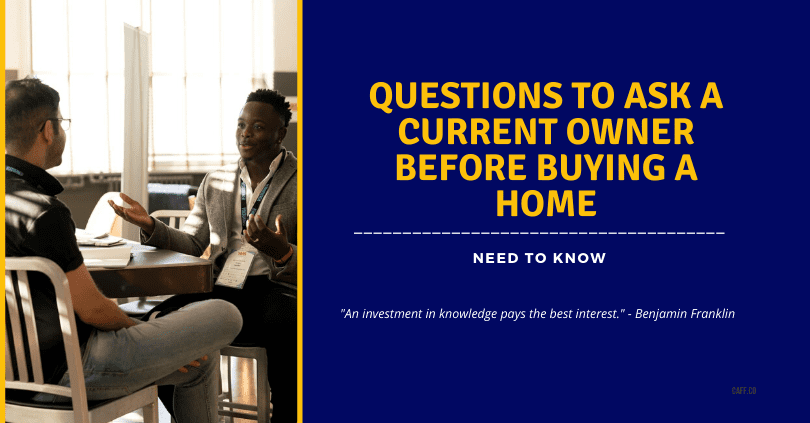 Take care not to let enthusiasm blind you to potential problems you may face when buying a new home. Curb appeal, nice landscaping, and a great location do not mean obvious problems – such as cracks on the wall, musty smells, or rotting floorboards – should be overlooked.
To help with ruling out potential problems before finalizing the sale a professional home inspection of the property should be considered.
You can also help protect your interest by asking some questions from the current homeowner. It is possible to have a face-to-face conversation with a homeowner who is working with a different Realtor to discuss any potential issues of which you may need to be aware. Sometimes arranging a meeting is as simple as just asking.
Here are a few questions to help with the conversation once a meeting is arranged:
What damage to the home are you aware of?
Are there any cracks in the walls? Rotting floorboards? Problems with the foundation?
Electrical or plumbing problems?
Has the roof ever leaked? Was it repaired or completely replaced? How old is the current roof?
Most fiberglass or asphalt-shingle roofs have a lifespan of about 20 years. If the roof is approaching – or past – that age the replacement could be expensive.
Has there ever been a termite problem?
Most homes are inspected for termites prior to sale, but it can't hurt to know the history of infestation.
Has the home been tested for the presence of lead-based paint (if applicable)?
A house built before 1960 may have been painted with lead-based paint, which was still used in some homes constructed during the 1970s. This is a particular concern for clients with young children: Kids are at risk for serious brain injury if they swallow chips of peeling lead-based paint.
Has the home has been tested for radon?
Consult both the home inspector and the local chapter of the Environmental Protection Agency about requirements concerning radon levels.
Ask if any local residents have encountered this problem.
How often is the HVAC system serviced?
Also, ask about the heating maintenance and its servicing schedule. Heating elements should be periodically serviced for safety reasons.
What improvements have the current homeowner made?
Did the homeowner do the job or hire a professional?
Can the homeowner supply records concerning the improvement?
Was the homeowner satisfied with the quality of the work?
Prospective buyers should use these questions to learn as much as possible about the property. Then they can sign on the dotted line with confidence.

Hope this helps! Please feel free to call or email any questions:


office@keltinginspections.com
941-655-8888
Ask about our Environmental inspection package deals saving clients hundreds!
https://www.keltinghomeinspections.com/wp-content/uploads/sites/204/2020/06/Questions-to-ask.png
450
810
Spectora
https://d3f55zfyw9z78c.cloudfront.net/wp-content/uploads/sites/204/2022/08/09222459/Untitled-design-7.png
Spectora
2020-06-25 13:28:39
2021-07-08 20:14:25
Questions To Ask A Current Owner Before Buying A Home